Siwa Oasis Attractions
Siwa Oasis sits in the western desert of Egypt, almost 305 km southwest of Mersa Matrouh Governorate and 420 km west of Baharyia Oasis. It is located in a depression in the middle of the desert, spanning over 72,000 sq. km, the Great Sand Sea lining the oasis is marked as the world's third-largest dune field approximately 18m below sea level. Whether you're into sand boarding, quad biking or simply camping out in the desert amid the vast, uninterrupted serenity, make sure you reserve a day with our luxury tours and packages .
In 2002, the Egyptian Government declared 7,800 square km in and around the Siwa Oasis as a protected area, in recognition of Siwa's cultural, biological and environmental value.
The geographic isolation of Siwa Oasis helped it a lot to protect its unique society, which stands distinctly apart from mainstream Egyptian culture. It is one of the most isolated settlements in Egypt with about 33,000 inhabitants.  Most of Siwa's residents are Berbers, those who developed its unique culture and distinct language - called Siwi.
Siwa is distinguished with its strategic location; nearly 50 km east of the Libyan border, and about 560 km from Cairo. It expands about 80 km – length- and 20 km- width. Siwa Oasis holds hundreds of natural springs; hot and cold, also salty and fresh, yet each one of those springs has its own benefits and unique impact.
Moreover,Siwa also stands out for the magnificence of its nature and topography besides its cultural richness.  All these reasons make of Siwaa unique place to visit; where you can enjoy relaxing and stunningly beautiful trip.
The journey to Siwa from Cairo is around 8 hours by car and it may take a longer time if you go by overnight buses. Yet, you will never regret your visit to such a unique breath-taking place.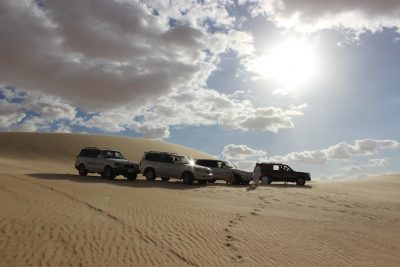 The traditional culture in Siwa Oasis has many unique features; some of them are significantly reflecting the fact that Swia's inhabitants are of Berber origin. Until the tarmac road was built to the Mediterranean Coast in the 1980s, Siwa becomes linked with the outside world were by arduous camel tracks through the desert.
Those tracks were used to export dates and olives, bring trade goods, or carry pilgrims on the route which linked Morocco to Cairo and hence to KSA.
Siwa's inhabitants developed their unique culture manifested in its amazing crafts including, silver work, basketry, embroidery, and pottery.It also manifested in its traditional style of dress. You can experience Siwa's unique culture by attending one of the local wedding celebrations; see the bridal silver and the ensemble of silver ornaments and beads that women wore in abundance to weddings and other ceremonies. All the pieces were decorated with a wide range of symbols related to Siwa's history, beliefs, and traditions.
