Why do People want to Visit Egypt?
Egypt's ancient history and culture the main reason people want to visit Egypt as it's a chance that tourists get to travel back in time and explore all the hidden treasures and beauty. Home to one of the world's greatest and earliest civilizations, Egypt is filled with historical sites and monuments dating back thousands of years.
Another reason people think about visiting Egypt is because they are so intrigued and fascinated by Egypt is that alongside the overflowing history it has, you can also find beautiful landscapes, deserts, and sandy beaches to simply lay low and enjoy a peaceful night under the star-lit sky.
Places to Visit in Egypt:
Egypt is one of the most history and culture filled countries in the world. There are many amazing places you shouldn't miss during your visit, whether it's historical sites or coastlines. Discover some of the most magnificent attractions during your visit to Egypt, and these include:
Why Dunes & Beyond is the Best Tour Agency?
Booking your trip through a tour agency is the perfect way to let go of all your worries and allow them to do all the hard work for you. What makes Dunes & Beyond the best tour agency to visit Egypt? Dunes & Beyond teams work carefully to compile tours that ensure you visit everything that your country of choice has to offer, but the difference is we do it in style! Luxury tours are what Dunes & Beyond are known best for and we make sure that from the moment you step into the country to the moment you depart, you will have only the most luxurious experience and you won't need to plan even the smallest of details, because we did it all for you!
Your trips can be customized and tailored to your liking and you can choose between a private tour or join public groups. The sky is the limit and that's why Dunes & Beyond is the best tour agency for you.
| | |
| --- | --- |
| Languages spoken | Arabic is Mother tongue, English is widely spoken |
| Currency used | Egyptian Pound |
| Area (km2) | Approximately 1,001,450 km2 (386,662 miles²) |
Visa requirements
Visas are easily attainable upon arrival for around 25$ for most nationalities (USA, UK, EU Nationals, Australia, Canada, Croatia, Georgia, Japan, New Zealand, Norway, Macedonia, Republic of Korea, Russian Federation, Serbia, and Ukraine), head to the visa on arrival window, they will give you a visa on arrival sticker. Place the sticker on a blank page in your passport and get in the immigration queue. That's it, get your stamp, collect your luggage, and head off exploring Egypt. It is best to have the exact amount in USD only and don't plan on using your credit card, for other nationalities please check the Visa Application on the Egyptian Ministry of Exteriors website.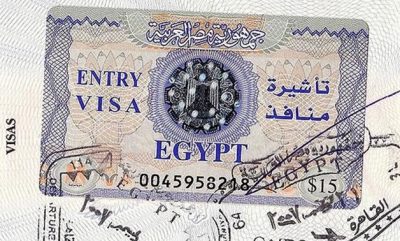 Currency
The Currency in Egypt is the Egyptian Pound or in Arabic it's called "Genih". The one Egyptian Pound is divided into 100 Piasters. The Egyptian pound is frequently abbreviated as LE, which stands for livre égyptienne (French) and also is abbreviated as EGP which stands for Egyptian Pound.
1 USD is equivalent to 17.92 EGP at the time of writing this article. A 1.5L bottle of water is for 5.00 EGP, a Typical Macdonald's Meal is for around 90.00 EGP and for the taxi fare it starts off with 5.00 EGP and 2.50 EGP for each extra KM. that's just to get an overview of what you can do with an Egyptian Pound. As for the tipping it would adequate to tip around 10% of the receipt.
The banknotes in Egypt:
Pounds:
1 Pound
5 Pounds
10 Pounds
20 Pounds
50 Pounds
100 Pounds
200 Pounds
Piasters: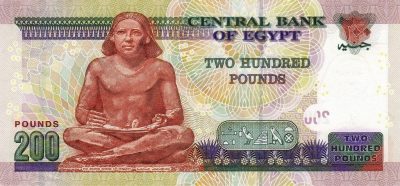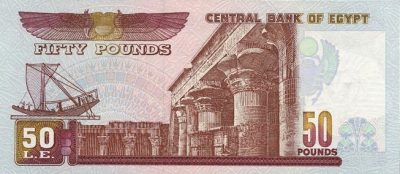 Coins in Egypt:
Piasters:
Pounds: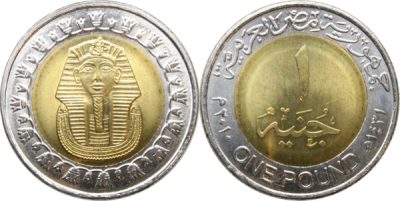 Many tourists get confused and pay the 50 Piasters as 50 pounds as there are two banknotes holding the figure 50. now you know the difference between the 50 piasters and the 50 pounds.
Airports
Egypt has 27 airports, some of the main airports in Egypt are Cairo International airport, Borg El Arab airport in Alexandria, Aswan Airport, Abu Simbel Airport, Luxor Airport, Hurgada Airport, and Sharm El Sheikh Airport, all of which makes travelling to and around Egypt easier and faster, a domestic flight from and to any two cities in Egypt won't take more than 2 hours 30 minutes, other means of transportation within the country are also available such as train railways the goes all the way from Aswan to Alexandria and Bus station that goes to various destinations around Egypt.
Tipping
Although tipping is by no means compulsory, nor are there any fixed amounts. Tips are entirely at your discretion and should be based on your satisfaction with the service given.
here below our suggestion for gratuities to the clients:
• Egyptologist/Local Guides 10 USD per day
• Nile Cruise 5 USD per day
• Tour Coordinator 7 USD per day
• Drivers 5 USD per day
Nature
Egypt covers an area of approximately 1,001,450km2 (386,662 miles²) from the north side Egypt is bordered by the Mediterranean Sea, Red Sea from the east side, Libya from the west side, and North Sudan from the south. It has a population of approximately 98 million people which makes it one of the three most populous countries in Africa and the most populous in the Middle East. However, only a small percentage of the land area is used by the population, the rest is uninhabitable desert.
The Nile River runs along its course from Aswan south Egypt towards the North where it splits into two Branches that feed the Mediterranean, Rosetta branch to the west and Damietta to the east forming the Nile Delta. Not only the Nile river has been the source of fresh water for agriculture and other activities, but also after building the high dam in 1970 and specifically 6 years later, after the dam reached its full capacity it started generating power and gave most Egyptian villages the use of electricity for the first time.
The weather in Egypt tends to be sunny all year long with minimum rain, the hottest months in Egypt are June to August and is coolest in January. Travelling during the period from March to May or September to November would be best specially if you are not a big fan of extreme weather.
FAQ
Is it safe to travel to Egypt?
Firstly, let's agree that there in 100% safe place in the world. In the UK, the Foreign and Commonwealth Office (FCO) does not advise against travel to most tourist destinations, but has advised against travelling to some parts of Egypt. Some areas of Egypt are deemed as no-go areas for tourists while others are classified as being safe. There is no FCO advice against travel to Cairo, Alexandria, the tourist areas along the Nile river (including Luxor, Qina, Aswan, Abu Simbel and the Valley of the Kings) and the Red Sea resorts of Sharm el Sheikh and Hurghada.
Are there shopping centers in Egypt?
Large Cities in Egypt have big shopping center with all international clothing brands, and food courts with all sorts of international and national restaurants and coffee shops, also they all have cinema theaters showing all Hollywood recent Movies. Moreover, Egypt has its own local markets selling its own traditional goods such as Khan El Khalili Market in Cairo where you can buy souvenirs for yourself and for you loved ones.
Does Egypt have a good internet and communication system?
Internet and Communication is growing in Egypt with four different communication and internet providers you can have access to internet wifi in many places in large cities in Egypt like Cairo for instance, also the network signal is good almost everywhere, you can buy yourself a Sim Card using your passport and have a subscription that suits your needs and duration of stay.
What are the religious occasion in Egypt?
Egypt has both Muslims and Christians (mostly Orthodox), thus, many different religious occasions are celebrated all around the year some of the main religious occasions are Ramadan, Eid El Fitr, and Eid El Adha for Muslims, and Christmas 7th of JAN, Easter, El Ghotas for Christians.
