In light of the changes put in place due to the Corona Virus outbreak, there has been a major fall in the economy and that includes tourism and travel. Egypt's Prime Minister Mostafa Madbouly stated that the country would gradually go back to normal practices after the Holy Month of Ramadan.
But what does this mean for travelling, hotels, resorts and overall tourism in Egypt?
The Ministry of Tourism stated that hotels will open once again starting May, 15th with only 25% of its overall capacity applying new rules following certain conditions and guidelines to stay safe during the COVID-19 spread. An additional 50% capacity will open starting June only to hotels and resorts that are following the conditions and guidelines strictly. Authorities will be checking up regularly on hotels and restaurants to ensure the application of said rules. Guests can find a special slogan that will be given out by authorities to the hotels and resorts that are following the guidelines to ensure to guests the safety in those hotels.
There are seven pillars that have been set by the Federation of Chambers of Commerce and the Chamber of Hotel Establishment to ensure a number of precautionary measures to help maintain a healthy and safe environment in hotels and resorts for all guests and that includes internal supervision on laundry, food and beverages, swimming pools, beaches, and gyms. Hotels must also have a clinic with a resident doctor and workers must undergo Corona Virus tests continuously.
Hotels around the country were thoroughly sterilized in preparation for domestic tourism and will remain on applying precautionary measures regarding housing, occupancy rate, awareness signs, and ensuring a safe work environment among its workers. Besides that, all workers will be required to wear gloves and face masks.
Guests will be required to pre-register online before their check-in date as a means of further protection. There will also be no activities, parties, weddings or events of any sorts that require large gatherings in any hotels or resorts. Terms and conditions have also been set to ensure safety in restaurants in all hotels and they include:
Placing sanitizers and/or sanitary wipes on every table.
Families can be seated on large tables with no more than 6 chairs. More than that will be placed on separate tables.
There will be 2 meters between every table, and each person will be seated 1 meter away from the other person.
Hookah/Shisha is strictly forbidden.
Open buffets are strictly forbidden. Instead, there will be pre-set menus.
Signs will be placed around restaurants to communicate certain health measures to be followed by workers and guests.
Regular temperature check measures will be taken.
Where applicable and possible, disposable cutlery will be used.
On the other hand, in terms of flights, Egypt Air Airlines has announced reopening bookings for domestic and international flights starting May, 16th in anticipation of potentially resuming flights into and out of Egypt. These flights are still subject to the government's decision which is yet to be declared.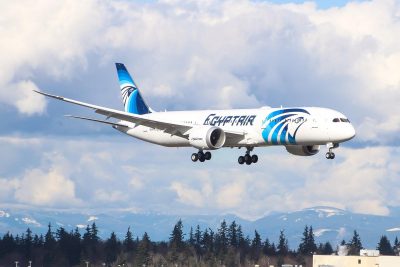 EgyptAir Airlines states that 128 flights will take off from Cairo International Airport to regional and global capital cities, as well as multiple domestic destinations. In case flights continue to be suspended and get cancelled, bookings will be postponed to later dates with no fines applied to passengers.
As things gradually go back to normal, all we can do is provide a healthy and safe environment for all guests and hope that the virus spread comes to an end. With that being said, we will continue to follow all guidelines and conditions required by the government to ensure optimal safety.