You may have heard about the magnificent Nile river and the stretches of dunes about the lands of Egypt. However, this destination has much more to offer to the wanderlust individuals.
Whether you are planning for a family vacation or a romantic getaway, Egypt is a place where you can get it all. Also, there are amazing Egypt travel tour packages offered by Dunes & Beyond to amp up your travel experience.
But if you haven't already made up your mind to explore this beautiful land enriched with authentic traditions, arts, history and more then continue to read till the end why you need to plan your next trip here.
1. The thrill of sailing over the Nile river
Nothing beats the experience of a thrilling cruise ride over the glimmering Nile river. You may have learned about it from the pages of your history books. The integral part it played in the Egyptian civilization.
How about taking a cruise ride over this historically magnificent river? Yes! You can take a luxurious cruise ride over the cool blue river Nile and explore the Egyptian cities in all its glory.
You get all the amenities on board and can relax, enjoy with your loved ones. Also, you will be taken to the exotic locations such as Aswan, Luxor and get a chance to discover the wonders of these beautiful cities.

2. Discovering the exotic Culture and Art of Egypt
Well, you cannot ignore the fact that Egypt is a land that holds some of the most exotic culture and art. Witnessing them would be an exhilarating experience for you and your loved ones.
It's a home to some of the most iconic landmarks of the world such as The Pyramids of Giza, Egyptian Museum, Valley of The Kings and more. Exploring them with your friends and family would be an unforgettable journey.
So what are you waiting for? Plan your trip to the enchanting land of Egypt and get lost in its extravagant arts and culture.
3. Experiencing the spirituality
The hustle and bustle of city life leaves many of us exhausted. So if you are one of those who feels this way and wants to get away from it then Egypt is just the place for you.
Egypt offers places of worship that are serene and can give you a sense of spiritual rebirth. The lands of Egypt have holy locales such as Temple of Kom Ombo, Ibn Tulun, Mosque of Muhammad Ali and more.
4. Ultimate luxury with 5 star hotels and lavish meals
To give you the ultimate feel of luxury Egypt is crowded with luxury 5 star hotels that offer larger-than-life amenities and services. You get to choose your luxury stay as per your demand and have an amazing time with your loved ones.
But that's not all. Egypt cuisine is another significant element that leaves the explorer delighted. The rich traditional cuisines and lavish spreads are sure to make your trip a joyful experience.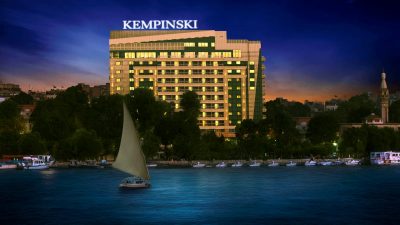 Conclusion
So what are you waiting for? Plan your next vacay in the enchanting lands of Egypt and get to experience the time of your lives. To make your trip all the more merrier, Dunes & Beyond presents amazing Egypt travel tour packages that you must check out.