Why you should travel to Egypt from USA in 2020
When it comes to choosing a place for your vacation, there are a few things that you should carefully consider; pick a perfect place to relax, enjoy, experience new things that you wouldn't normally come across in your country. That's why we say that traveling to Egypt is one of the choices; Egypt is a very rich country where you can experience the prosperous culture, unique sightseeing, and various aspects you'll experiment with when you visit Egypt.However, people travel to Egypt because of its rich culture, historical sites, luxury Nile Cruises, and the numerous activities that one can explore.
Why you should pay Egypt a visit in 2020
2020 is set to be the year in which Cairo's New Grand Egyptian Museum – the largest archeological museum in the world – will open its doors to public visits. If you have visited the current Egyptian Museum in Tahrir Square, then you may notice that it is just a storehouse of Egypt's great ancient treasures. Yet, the new Grand Egyptian Museum offers his visitors a special theme that leads them through a wonderful journey to the ancient Egyptian world.
Furthermore, the Grand Egyptian Museum is perfectly located close to the Giza plateau, which gives it a breath-taking overview at Giza pyramids and adds even more atmosphere. Imagine yourself before the great pyramids, entering into its tombs, exploring the mighty Sahara Desert, or even enjoying your luxury Nile Cruises. Yet, what makes it more interesting is Giza's newly inaugurated Airport – Sphinx Airport- that set to operate domestic flights.
1-    Egypt is one of the Most Oldest Ancient Civilizations in the World
The Egyptian Pyramids are among the surviving ancient wonders, along with ancient Egyptians' temples, statues, and tombs continue to seize the attention of top archeologists and, of course, the whole world. No wonder that the Egyptian civilization is still to be discovered to this day!
Egypt is the perfect place to escape from your daily routine life;  you can easily enjoy a long holiday in Egypt by combining your time sightseeing and touring in the city with a few days on the coastal resorts like Sharm El Sheikh, Hurghada, Red Sea, or Alexandria; there are a lot of things to do in Alexandria, Egypt! Don't miss it!
2-    Time to Experience a Luxury Nile Cruise in Egypt
Enjoy a luxury and comfort stay on board one of the Luxury Nile Cruises in Egypt with a tour length to suit you and enjoy the best of ancient Egypt in style. The Nile River is a must-see Cairo sightseeing. You can enjoy your way to the Kasr El Nil Bridge, which offers a breathtaking panoramic view of Cairo's skyline. To be frank, the Nile River is the thing you shouldn't miss while visiting Egypt.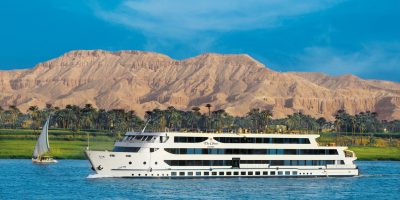 3-    Explore the Sahara Desert, Explore the Best of Egypt Travel Packages
Do you know that the Sahara Desert has a very unique and distinctive beauty? It could be that reason why travel to Egypt; the mighty Sahara Desert can be enjoyed and explored in a way you have never imagined! You can find many travel agencies in Cairo that include lots of travel packages and fun activities to plenty of magical sightseeing.
Go camel trekking or conquer the Sahara in 4×4; visit Siwa Oasis and bathe in its wonderful natural springs, or camp under a star-studded sky and mix and dine with the people of the desert.
4-    Visit Egypt Attractions;Great Temples, Monuments, and Tombs
The Giza plateau is just the start of Egypt attractions; there is a long list of historic landmarks that shouldn't be missed. You can enjoy Egypt travel packages to the country's most iconic sites. In Aswan, for example, you can check-out the Temple of Isis, which dates to the 4th century BC, as well as the Temple Khum, from the 3rd Dynasty. Then, you can venture down the Nile River, Kom Ombo Temple, and the Edfu Temple, and of course, Abu Simbel Temple.
Egypt tour packages aren't complete without an excursion to the Valley of the Kings, home to royal burial sites and temples. You can also get to see Karnak Temple – the largest religious building ever constructed and the Djoser Step Pyramid – an ancient tomb in the Saqqara necropolis.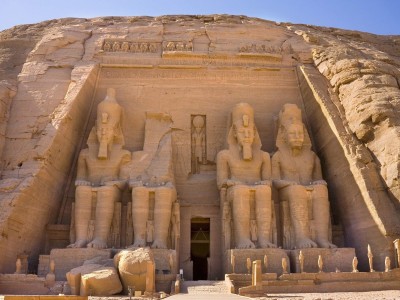 5-    Eat Delicious Food; Book the best Tour Packages
Egyptian cuisine is one of the national treasures in Egypt; the Egyptian fuul, taameya (Egyptian falafel), and koshary (a dish made with lentils, rice and macaroni noodles) are all cheap, nutritious and even vegan-friendly. While in Cairo, you will be able to curb your sweet tooth too, it's where you will find a wide range of sweet shops scattered throughout the city. In which you will find various traditional treats like konofa, basbousa, and syrup-infused semolina pastries. Do not forget to stop at a local juice bar and enjoy an ice-cold glass of juice.